Fiberglass Wrought Iron Entry Doors Offer The EXACT Same Look As Their Iron Counterparts. They're Just More Practical.
A fair amount of homeowners around the Orange County, CA area confuse 'wrought iron entry doors' with their actual iron counterparts.
In this article, we'd like to take a few minutes to ensure you're not one of them.
Let's begin with simple definitions.
What Is An 'Iron' Entry Door?
Iron entry doors are made of iron. Imagine the door slab being either solid or hollow, sealed and insulated with special foam to keep the elements outside.
The picture below is a roughly $5,000 retail example here in early 2021, filled with polyurethane. As you can see, it has operable glass panels and a sleek metallic sheen.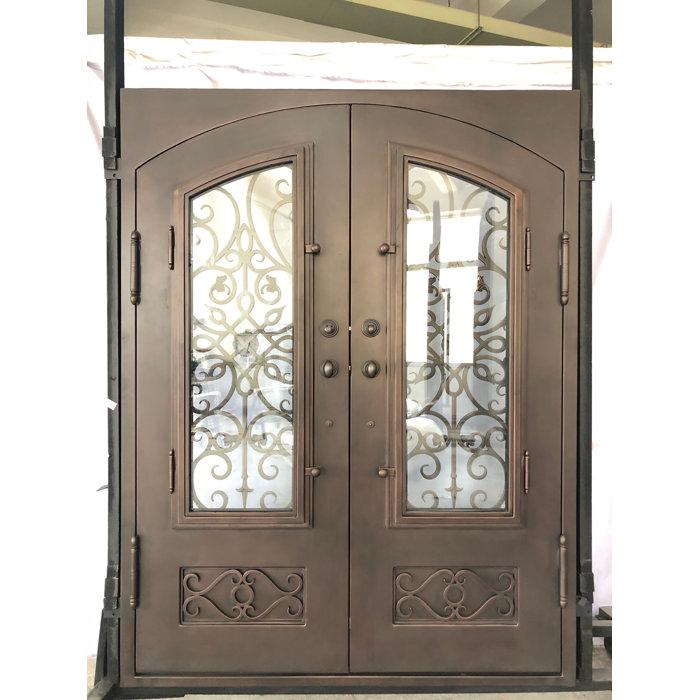 While there are plenty of benefits to installing these kinds of doors (and to iron as a material), they're completely different from Fiberglass Entry Doors with Decorative Wrought Iron Grilles.
What Are Fiberglass Wrought Iron Entry Doors?
Two important considerations:
When you talk about 'wrought iron' you're referring to iron that's been heated and worked with tools – like a gorgeous wrought iron grille. It's been manipulated or sculpted. This is in contrast to conventional 'cast iron' that's been melted and poured into a mold – as in the case of an iron door slab.
A fiberglass wrought iron entry door is simply a fiberglass door slab dramatically enhanced by a decorative wrought iron and glass grille.
How Old Are These Kinds Of Doors?
Briefly put, the history of wrought iron traces back to the birth of the Iron Age. Then we can skip forward to the Middle Ages when they began using wrought iron doors to help fortify castles and walled town enclosures.
Then, as artisans got better and better (as did their tools) at manipulating wrought iron, gorgeous displays became a status symbol for the upper classes. In more modern times, it was brought to the 'New World' in North America by the French. As the wealthier classes got established, the first wrought iron doors were seen in places like New York, Boston, and New Orleans.
When it comes to entry door styling today, you've got tremendous affordable options.
In the words of one of our fine manufacturers, JELD-WEN®,
"Our decorative grilles match architectural styles from Georgian to Greek, Art Nouveau to Art Deco, Mediterranean to Modern. These designs combine old-world craftsmanship with modern-day convenience and practicality."
These are a small snapshot of some of their options below. But, when you start looking at custom wrought iron and glass in combination with all the other elements of fiberglass entry door systems…styling possibilities are endless.
The next picture below from one of our Entry Door Galleries helps to demonstrate the point. As you can see, it looks like a wrought iron wooden door thanks to the grille. If you touched the door, it feels a lot like wood as well, but it's actually fiberglass.
Up close, you would know instantly that it's not made of iron.
The Benefits Of Wrought Iron Entry Doors
So, a wood door can be a wrought iron entry door.
Could a steel door be a wrought iron entry door? Yes.
We stick with fiberglass wrought iron entry doors because they're the perfect choice for Orange County, CA homeowners in most situations (Learn More).
They reliably add value to your home. New owners absolutely LOVE fiberglass wrought iron entry doors as much as anyone else. They're distinctive and compliment really any exterior coloring.
They don't have the massive weight of iron entry doors, which reduces cost, maintenance, and everything it could take to make an iron door (and frame) fit your home.
The sight of wrought iron grilles is enough to deter many potential burglars looking for far softer-looking targets. Time has shown these premium door systems are more SECURE.
Wrought iron grilles (especially when custom-made) are tough! They add a little more maintenance, but make up for it by being so weather-resistant and long-lasting.
Key Takeaway: 'Wrought Iron Entry Doors' Are NOT The Same As 'Iron Entry Doors'
Hopefully, you now understand the difference between the two. An Iron Entry door is, well… an Iron Entry door. Technically, wrought iron entry doors can come in many different materials, but what makes them so are the decorative iron grilles we all love to look at (and through).
The only big hurdle homeowners face is trying to navigate the endless choices these days to find the right one. Meaning the right kind of wrought iron entry door with all the customizations they want at the right price.
If you happen to be in the Orange County, CA area, the good news is you've found the door company that can actually help you. Contact Us today and we'll put our 30+ years of experience to work for you.